This is a guest post by Jason van de Laar, C.E.T. from JTL Integrated Machine, an InspectionXpert customer.
Improving quality planning and the efficiency of the inspection process is an ongoing job; there are always new technologies and methods to try. Our quality control team at JTL Integrated Machine has made gradual changes to our processes over the past several years, and each improvement is an opportunity to spend more time on valuable tasks and focus on making our workflow even better.
When we first implemented InspectionXpert, we greatly simplified our process and saved a lot of time on ballooning and reporting. However, we were still printing out the ballooned part drawing and the inspection report and then filling out the report by hand, which meant we still had to type in the measurement results afterward. We tried using the paper drawing and filling out the FAI report on a laptop, which improved workflow somewhat. But having to look at the drawing, go inspect the part, and then type the result in the report still caused disruption.
We decided to try QuickMeasure, and were extremely happy with the results. QuickMeasure allows you to click on the dimensions in your project file and then immediately input the measurement result. Finally, we could ditch the paper drawing and inspect the drawings on the PC screen, clicking into each feature.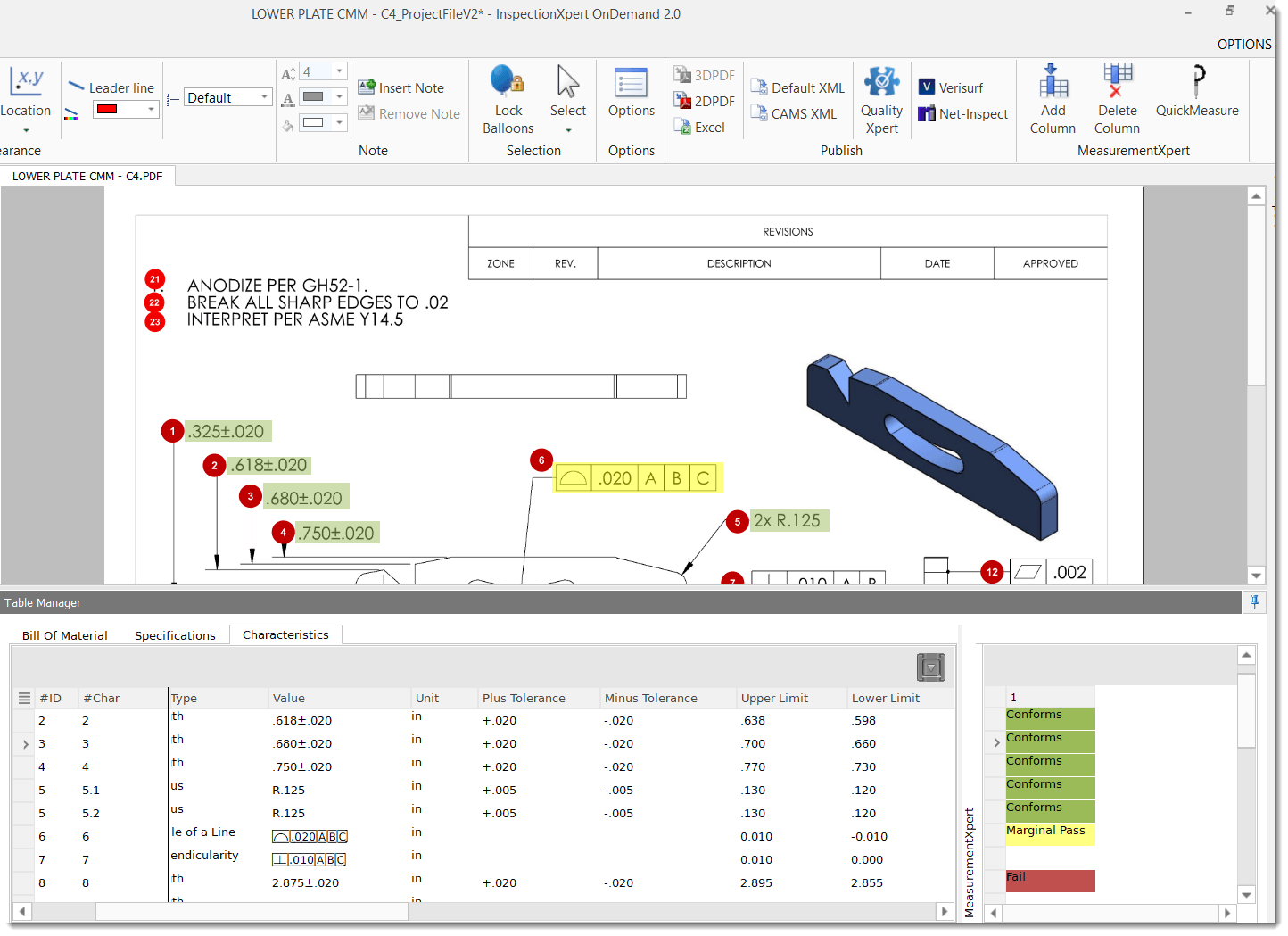 Using QuickMeasure unlocked functionality that was not available using the standard AS9102 report format in Excel. We set up QuickMeasure so that in addition to highlighting the feature red for an out of tolerance measurement and green for in tolerance, we added yellow for measurements that were close to being out of tolerance. This is a valuable visual cue for performing statistical process control on multiple parts. We can also export the dimensional data for multiple parts in the same report file, allowing us to track the dimensional trend and see how the measurement data is varying side-by-side.
The image below compares the total inspection time for the same part (a machined impeller casting), but in one instance typing the data into Excel, and in the other entering the measurements directly into QuickMeasure: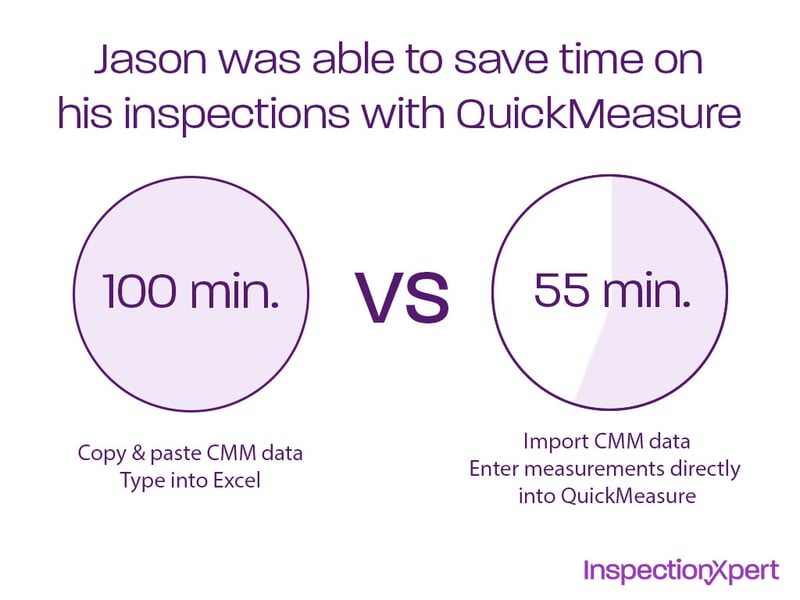 As you can see, there was a total reduction in time of approximately 45 minutes for the first part measured, with further gains on successive parts. Using QuickMeasure is most beneficial when using a CMM because we can operate our CMM software on one screen and InspectionXpert on the other screen, giving us instant access to the part drawing. As we move through the measurements, the next one automatically becomes highlighted on the screen. We save a lot of time in wasted body movements because we are no longer moving to go look at the drawing or setting up hand tools.
QuickMeasure has some key advantages over other inspection techniques:
Easily see dimensions on crowded measurements because each feature is highlighted as you measure.
Get instant feedback if a measurement is in, out, or close to being out of tolerance with customizable color coding settings.
Drawing and measurement data are visible at the same time: see everything you need at once, and save paper too.
One location for your ballooned drawing and inspection data.
QuickMeasure is an excellent way to increase workflow efficiency during your dimensional inspections. I would highly recommend trying it out on your next dimensional inspection project - you will be amazed at how much time it will save you. As for our shop, we're still looking for ways to improve: one big improvement we'd like to implement in the future is to have more detailed welding inspection reports and welding inspection balloon drawings.