A First Article Inspection (FAI) is an official authentication method for a manufacturing process. An FAI report utilizes the dimensional properties of a production part in comparison to design specifications. Items to be checked by the FAI are varied and may include distances between edges, positions of holes, diameters and shapes of holes, weight, density, stiffness, color, or surface finish.
FAI Inputs:
Design documentation, usually a 2D drawing (TIFF or PDF) or for parts that are defined using DPD - digital product definition (3D model such as STEP, CATIA or other CAD files)

Material and process specifications
At the end of your First Article Inspection you'll produce a First Article Inspection Report (FAIR) which includes:
Ballooned part drawing

Verified measurements of characteristics

Additional checklist items as required by your customer
When to conduct a First Article Inspection
A First Article Inspection is typically called for in a purchase order contract between the producer and buyer. The AS9100 Rev D defines First Article Inspection as a production process verification activity, so all designs should be completed before an FAI is conducted. Once the design is finalized and production processes have been determined, an FAI can be performed on the first production run. An FAI should be repeated whenever there is a change in design that affects the form, fit, or function of the product.
Despite the name, the inspected article may not necessarily be the first produced, but a sample from the first production run provided to the customer. Typically this is one part, but some customers may require more.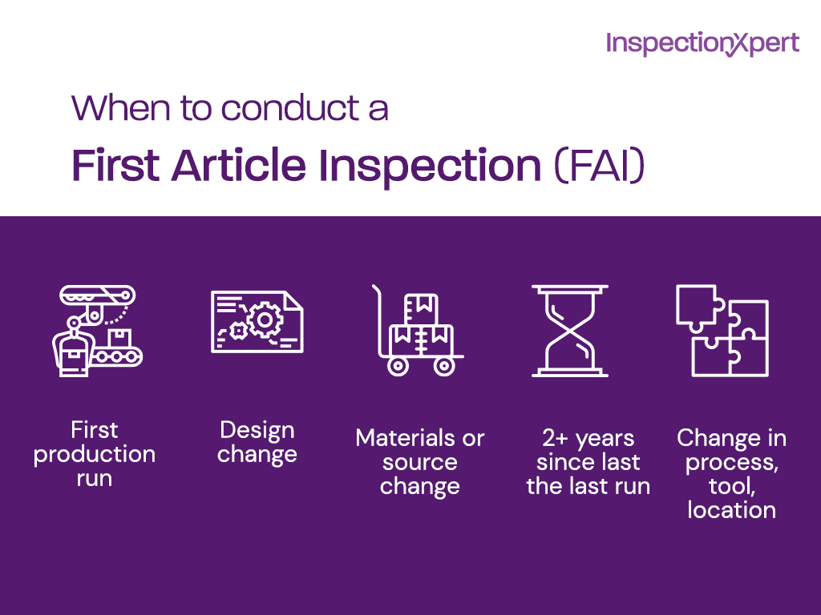 An FAI should also be conducted if the production process used to make the part changes. For example, the specifications of the part may remain the same, but the production operation might be changed for efficiency. Production process changes must be verified through a First Article Inspection to ensure all requirements are still met.
First Article Inspections are conducted on individual parts and assemblies. If there are changes to a sub-component within an assembly, an FAI should be conducted to ensure that it too performs as required. For an assembly FAI, all the design characteristics that are called out on the assembly design documentation would need to be checked.
| | | |
| --- | --- | --- |
| | Assembly First Article Inspection | Detail First Article Inspection |
| Bill of Characteristics | | |
| Bill of Specifications | | |
| Bill of Materials | | Not usually included |
The most common reason to conduct an FAI is because it's required by your customer. According to SAE, here are the times a First Article is required:
First production run of a new product
Design change
Materials or sources change
It has been more than 2 years since the part was produced
Change in process, tools, or location
FAQs about when an FAI should be conducted
If it has been 2 or more years since a part was produced, is a full or partial FAI required?
It depends. An FAI is required for any characteristics that may be impacted by the inactivity. When a full FAI is not performed, your FAI procedure should describe the rationale for assessing which characteristics were not affected by the inactivity, and how that assessment is documented.
If manufacturing is moved from one location/facility to another, is a new FAI required?
Yes. 9102 - 4.6.f.1 states: "A change in manufacturing source(s), process(es), inspection method(s), location of manufacture, tooling or materials, that can potentially affect fit, form or function."
How is it assessed if a change "can potentially affect fit, form or function"?
The only people able to evaluate the changes for "fit, form or function" are those knowing the product, the processes, the environment and knowing which problems occurred in the past. This will usually be determined by your customer. Standards provide requirements but cannot provide methods for meeting the requirements. Your customer should have a process to determine who is responsible for addressing events requiring an updated FAI.
After an initial FAI is complete, is a supplier required to complete partial FAIs when inspection frequency and methods are changed?
Yes. A complete or partial FAI would be required for the changed inspection when the tool listed on Form 3 Field 10 is changed.
Can an Assembly FAI be conducted if one or more of the detailed parts has not completed the FAI process?
It depends. If the detailed FAI affects the fit, form, or function of the assembly, the Assembly FAI cannot be conducted until the detail FAI is completed. If the detailed FAI does not affect the fit, form or function of the assembly, the Assembly FAI can be completed.
Is a FAI required for unique single run production orders?
Generally, no. Section 1.3 states, "Unless contractually required, the standard does not apply to Unique single run production orders not intended for ongoing production". Single run production orders are a one-time run of a product that is not intended for continued production, but may be installed on a production unit.
Learn more about how to create your First Article Inspection Report with our free guide and template.